Total PFS Guide to Heavy Duty Stapling
A stapler is a mechanical device that joins pages of paper or similar material by driving a thin metal staple through the sheets and folding the ends. Staplers are widely used in government, business, offices, homes and schools.
Most staplers are used to join multiple sheets of paper. Paper staplers come in two distinct types: manual and electric. Manual staplers are normally hand-held, although models that are used while set on a desk or other surface are not uncommon. Electric staplers exist in a variety of different designs and models. Their primary operating function is to join large numbers of paper sheets together in rapid succession. Some electric staplers can join up to 250 sheets at a time.
History
The first known stapler was made in the 18th century in France for King Louis XV. Each staple was inscribed with the insignia of the royal court, as required. The growing uses of paper in the 19th century created a demand for an efficient paper fastener.
In 1866, George McGill received U.S. patent 56,587 for a small, bendable brass paper fastener that was a precursor to the modern staple. In 1867, he received U.S. patent 67,665 for a press to insert the fastener into paper. He showed his invention at the 1876 Centennial Exhibition in Philadelphia, Pennsylvania, and continued to work on these and other various paper fasteners throughout the 1880s. In 1868 a patent was also taken out for a stapler in England by C.H.Gould. As well, also in 1868, Albert Kletzker of St. Louis, MO patented a device to staple paper.
In 1877 Henry R. Heyl filed patent number 195,603 for the first machines to both insert and clinch a staple in one step, and for this reason some consider him the inventor of the modern stapler. In 1876 and 1877 Heyl also filed patents for the Novelty Paper Box Manufacturing Co of Philadelphia,PA, However, the N. P. B. Manufacturing Co.'s inventions were to be used to staple boxes and books.
The first machine to hold a magazine of many pre-formed staples came out in 1878.
On February 18, 1879, George McGill received patent 212,316 for the McGill Single-Stroke Staple Press, the first commercially successful stapler. This device weighed over two and a half pounds and loaded a single 1/2 inch wide wire staple, which it could drive through several sheets of paper.
The first published use of the word "stapler" to indicate a machine for fastening papers with a thin metal wire was in an advertisement in the American Munsey's Magazine in 1901.
In the early 1900s, several devices were developed and patented that punched and folded papers to attach them to each other without a metallic clip. The Clipless Stand Machine(made in North Berwick) sold from 1909 into the 1920s. It cut a tongue in the paper that it folded back and tucked in. Bump's New Model Paper Fastener used a similar cutting and weaving technology.
The Modern Stapler
In 1941 the type of paper stapler that is the most common in use today was developed: the four way paper stapler. With the four way, the operator could either use the stapler to staple papers to wood or cardboard, or used to staple like pliers for bags, or the normal way with the head positioned a small distance above the stapling plate. The stapling plate is known as the anvil. The anvil often has two settings: the first, and by far most common, is the reflexive setting, also known as the "primary" or "permanent" setting. In this position the legs of the staple are folded toward the centre of the cross bar. It is used to staple papers which are not expected to need separation. If rotated 180° or slid to its second position, the anvil will be set on the sheer setting, also known as "secondary", "temporary", or "straight". In this position the legs of the staple are folded outwards, away from the cross bar, resulting in the legs and cross bar being in more or less a straight line. Stapling with this setting will result in more-weakly secured papers, but a staple that is much easier to remove. The use of the second setting is almost never seen, however, due to the prevalence of staple removers and the general lack of knowledge about its use. Some simple modern staplers feature a fixed anvil that lacks the sheer position.
Modern staplers continue to evolve and adapt to the changing habits of users. Less-effort, or easy-squeeze / use staplers, for example, make use of different leverage efficiencies to reduce the amount of force the user need apply. As a result, these staplers tend to be used in work environments where repetitive, large stapling jobs are routine.
Some modern staplers make use of Flat Clinch technology. With Flat Clinch staplers, the staple legs first pierce the paper and are then bent over and pressed absolutely flat against the paper – doing away with the two-setting anvil commonly used and making use of a recessed stapling base in which the legs are folded. Accordingly, staples do not have sharper edges exposed and lead to flatter stacking of paper – saving on filing and binder space.  The best examples of these machines are the Stago HM15 and the Stago USM140
Methods
Permanent fastening binds items by driving the staple through the material and into an anvil, a small metal plate that bends the ends, usually inward. On most modern staplers, the anvil rotates or slides to change between bending the staple ends inward for permanent stapling or outward for pinning (see below). Clinches can be standard, squiggled, flat, or rounded completely adjacent to the paper to facilitate neater document stacking.
Pinning temporarily binds documents To pin, the anvil slides or rotates so that the staple bends outwards instead of inwards. Some staplers pin by bending one leg of the staple inwards and the other outwards. The staple binds the item with relative security, but is easily removed.
Saddle staplers, have an inverted V-shaped saddle for stapling pre-fold sheets to make booklets.  All the Stago electric staplers have a saddle function to allow the machine to produce booklets as well as pads.
What type of stapler do I need?
Whether you need a manual or electric heavy duty stapler, check our guide. Perhaps you want a saddle stapler for booklets or just need to know what staples fit your stapler?  Our range of Staplers come in different shapes and sizes so finding the right stapler for you, or your requirements can be a difficult task.
Examples of Stapler Types
Stago H18T heavy duty manual stapler for stapling up to 18mm (180 sheets 80gsm)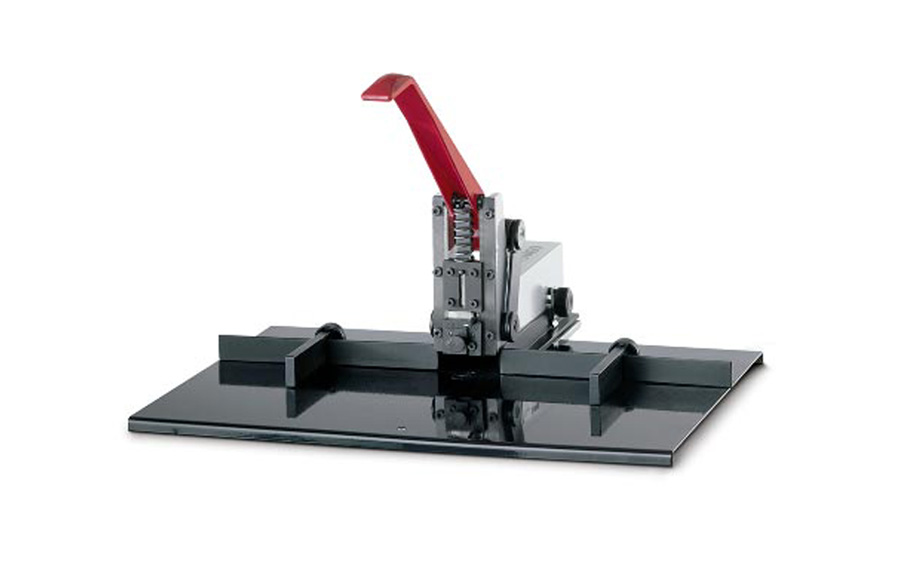 Skrebba SK-208 manual booklet/pad saddle stapler with a table  that rotates 90 degrees to allow stapling of pre folded sheets
Stago USM140 Heavy-duty foot-activated electric stapler.  Pad and saddle stapling, multiple staple heads, up to 250 sheets 80 gsm capacity
Heavy duty staplers are purpose-built for high usage office environments where large quantities of paper need to be stapled together. These industrial staplers have a tough metal construction and feature extra-long arms to enable the user to apply maximum force for stapling thick documents or booklets. You can staple between 100 to 180 sheets of 80gsm paper with a manual heavy duty stapler.
Electric staplers use automated stapling mechanisms that will staple materials without the need to apply force manually. They are ideal for businesses with high volume stapling requirements because they can staple large quantities of material quickly and with minimum effort. Basic versions can staple up to 30 sheets of printer paper while heavy duty ones have a capacity of up to 250 sheets. Some electric staplers also have the ability to staple in multiple ways – side, corner and saddle stapling.
What type of staples do I need for my stapler?
Total PFS stock an extensive range of staples and will help you find the right staples for your stapler.
Staple sizes are usually displayed as two numbers split with a forward slash i.e. 26/6 or 64/10
The first number indicates in the gauge of wire used in mm
The second number indicates the depth of the leg in mm (also known as the shank length)
So 26/6 means the staple has a 26mm gauge and a 6mm shank length
It's important to use the right staple as using the wrong staple may mean that paper is not properly stapled together and will cause long-term damage to your stapler or void your warranty.
For non-standard staplers, like heavy duty and electric staplers, we always recommend that you check your stapler instructions before purchase.
How many sheets of paper can my stapler staple?
The number of sheets of paper a stapler can staple will depend on the type of stapler and the staples that you are using.
Our manual staplers will staple up to 180 sheets (80gsm) paper (using the Stago H18T), our electric staplers will staple up to 250 sheets (80gsm) paper (using Stago USM140).  total PFS has years of knowledge and experience and will make sure that we recommend the best machine to suit both your requirements and your budget.
To determine the capacity of sheets that can be stapled, look at the staple size: 66/6 for example means a 66mm gauge with a 6mm shank (leg).  The leg needs 3mm to form under the stack of paper being stapled, therefore the capacity of a 66/6nn staple is 3mm or 30 sheets (80 gsm).
Do I need to use the same brand of staples as my stapler?
For heavy duty manual and electric staplers, it is important to use the correct specialist staples as even though a different manufacturer may state the same gauge and shank length, the shape of the staple is still not necessarily the same, A Stago staple is not the same as a Rapid staple.   Using the wrong staple will cause machine down time and loss of productivity due to jamming or other damage caused to the staple head.  Please check with your stapler's original instructions for guidance on replacement staples or consult the team at Total PFS.