Spiral binding is considered 'cheap and cheerful' but if you're a professional organisation is that really the image you want to portray with your bound documents? There is a far more modern and professional binding machine alternative available with the Planax Copy Binder 5. You see old-fashioned spiral binding comes with its own set of issues.
For example, pages don't remain level when the document is open. And once they've been opened and closed over a period of time the paper starts to weaken where binding holes have been punched, leading to torn pages and ultimately pages falling out completely. Not the sort of problem you'd have to put up with if your documents are bound with the Copy Binder.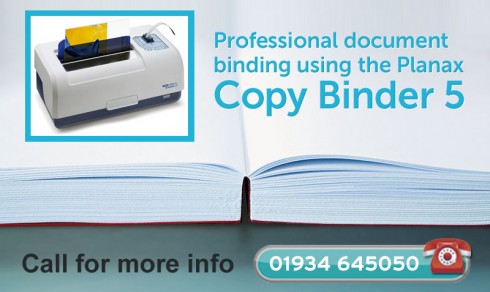 Then there's the fact that the Copy Binder is much easier and faster to use than a spiral binding machine. The Copy Binder can bind up to 330 pages in just 1 smooth action of 10 to 15 seconds! A 330 page document being bound by a spiral binding machine would take a minimum of 11 to 12 punch cycles plus spiral insertion, which depending on its size could take several minutes just to bind 1 document. And as a busy Office Manager or Production Manager you know that time spent hanging around waiting for documents to be bound is time wasted.
Binding spirals also come with other challenges. Because they stick out they're prone to getting bent or damaged, don't stack or store well, and are a pain to post; unlike the smooth 'book like' lines of any document bound with our Copy Binder.
So don't compromise your bound documents with inconvenient spiral binding, invest in a Planax Copy Binder 5 and bring your documents up to date.