Two words spring to mind when mentioning Skrebba and those are quality and flexibility. These staplers are truly solid, made in Germany and with tough German production values and available worldwide, you can feel the quality. We can't emphasise their durability and user-friendliness highly enough. In fact they're so popular the family run firm has been building these magnificent staplers for 3 generations now.
Furthermore, there are 9 models to choose from in the wide range of heavy-duty Skrebba staplers and many of them are capable of far more than their competitors. For example, loop stapling, flat clinch and twin heads to name just a few of the extra features that Skrebba give you as standard. To have a look at some of the range for yourself in more detail simply click here.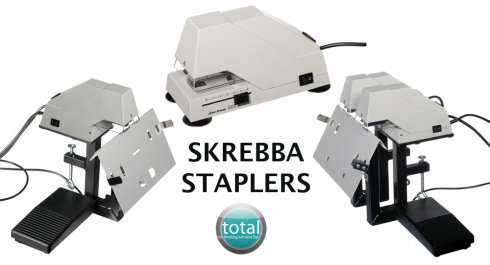 You can also get manually or power operated Skrebba staplers with stapling capabilities of up to 200 sheets of 80gsm. And all Skrebba staplers exclusively sold here in the UK by Total PFS have achieved the highly stringent GS accreditation, recognised throughout the EU as a symbol of quality, as well as the equally important CE mark. As well as the staplers themselves we can also supply you with all spare parts and staples.
So, if you want the very best that a world renowned German stapler manufacturer has to offer but here in the UK then why not get in touch with us here at Total PFS. You can call us on 01934 645050 or use our simple contact form. Prices for one of these incredible staplers start at a very reasonable £147, and once you've tried a stapler by Skrebba you'll wonder how you ever did without one.