A hole punch is not always the tool for the job, if you've got a particulaly thick wad of paper you are going to need a paper drill.
Paper drilling is used to drill round holes into paper and many other pliable materials. There are a large number of different models of drill, and drills bits, on the market and they all offer something different. Therefore, it's important to be clear what it is you're trying to achieve before choosing the one most suitable for the job.
For paper drilling, hollow paper drill bits are held in to a spindle which drills down into the pile of paper. The paper then travels through the hollow drill bit ready to be collected and then discarded. There are various different drill bits available to create different sized holes and in different coating qualities. The drill bit is either driven in automatically or by pulling a handle. In some types of machines, the table is actually lifted up to meet the drill head and the hole is made that way. The key idea is that a hole punch can only do a few sheets at a time, whereas a drilling machine can process masses of paper very quickly and effectively.
Each paper drilling machine will possess a number of different spindles, depending on the model. These spindles are then each built into one drill head. Depending on the type and intended purpose of the machine, there may be anything from one or two right up to 20 drill heads. All paper drills are designed to drill through large stacks of paper, but some can only drill up to two-inches of paper, where some higher-end models can drill through three-plus inches of paper. This again is why it's so important to choose the right one.
Drill bits generally range from 2.5 to 30mm in diameter and are suited for use on manual, semi-automatic, and automatic drilling machines including single and multi-headed drills.
Manual paper drilling machines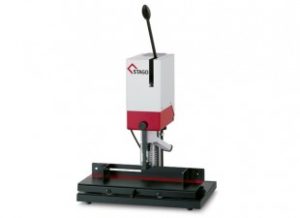 Generally on the cheaper end of the market, these drills are usually single head and are ideal for small to medium-sized jobs. The operator of the drill simply pulls the drill head down into the paper and applies pressure to create the holes. They often (but not always) have a mechanical lifting table.
Automatic and Semi-automatic paper drilling machines
Essential for larger jobs and often deployed in manufacturing and woodwork, fully automatic paper drill machines are expensive and heavy duty. There is usually at least one conveyor belt which pulls the large piles in for processing and no manual work is required at all. The jogging of piles, the positioning of them in the machine, the calculations and the actual drilling are all automatic and highly efficient.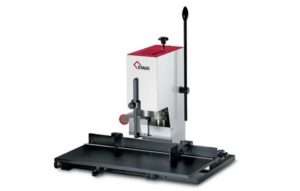 Semi-automatic drills can still have up to four heads and offer excellent results for medium to large jobs, but not all of the processes will be automated. For example, the operator may need to make the calculations themselves and there may be no automatic paper feed. Differences will depend on the model.
We stock a wide range of paper drilling machines including ex-showroom, refurbished and high performance paper drills and accessories.
Did you know?
Paper drilling machines have previously been used by casinos to deface ("cancel") used decks of playing cards. These decks are cancelled by defacing so that they can't be marked and brought back into play illegally.