The answer to this question very much depends on what kind of industry you're in.
Despite the name, paper drills are often actually capable of drilling holes in thick cardboard, wood and plastic sheets, amongst many other materials. This means they may be used in all sorts of industries from binderies, commercial print shops, in-house print shops or for designing and graphics. Depending on the volumes, these companies may operate many different types of paper drilling machines. These could range from small single or dual spindle manually operated drills to large motorised paper drilling machines and fully automated, integrated systems, with four spindles or more.
Go into any office and the trusty hole punch has always been a familiar feature, and probably will be for many years to come. Ideal for very small jobs where only a few sheets of paper require holes to be created, the faithful hole punch certainly has its place. But sometimes something much more heavy duty is needed, particularly if you have a large stack of paper or you need holes to be made which are super accurate.
This is where your business may benefit from a paper drilling machine, where deeper reams of paper can be processed in lightning quick time.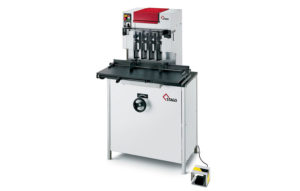 The main use for a drilling machine in an office is of course in stationery. Uses would perhaps be to produce holes for ring binders, holes for wire spiralling (as in calendars) and a whole range of other general usages. Additionally, booklets, leaflets and brochures are ideal uses for a paper drilling machine, as they can then be filed in a binder. Sometimes drilled holes are used for decorative purposes, such as in Christmas or table decorations, and in children's toys. Additionally, these machines can be used with different stock types, for example, glossy or bond paper, offset paper or coated paper. A modern paper drilling machine is certainly highly versatile, and once adequate research is carried out to make sure the perfect one is selected, they make a highly efficient and cost-effective addition to many businesses – not least because they can mean a serious scaling up of production.
Paper drilling machines are also highly accurate as they're less prone to human error than hole punches. Paper and indeed other materials used in your day-to-day business life are expensive and can be all too easily thrown away if the holes aren't quite deep enough or came out wonky. This would mean staff having to start again with new paper or materials, adding to your business waste and therefore your costs. Hole punches are also horribly messy. All too often the bottom comes off and tiny circular bits of paper scatter everywhere. Either that or someone's forgotten to empty it… again.
Paper drilling machines, however, are much cleaner and tidier to use. As each drill bit is hollow, it sucks up the paper disks through the head and out through an extraction system where it's stored in a much bigger storage container. This needs emptying far less frequently so saves a lot of time, plus there's no risk of a snowy white floor.
So think about it – how could a paper drilling machine help your business in 2018?