Creating a landscape booklet with either A4 or A3 finished size is made easy by both the Stago USM-140 Stapler OR the Introma ZD-2SR Wire Stitcher – both available exclusively from leading independent print finishing equipment specialists, Total PFS.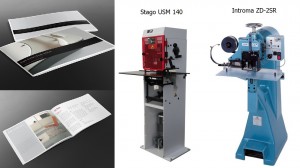 Both the Stago electric stapler, and Introma stitching machine feature the capacity for flat and saddle work as well as featuring a 297mm drop – big enough to accommodate A2 folded in half.
Either machine lends itself perfectly to producing short to medium runs of landscape books with saddle stapling capacities up to 40 sheets with the USM-140 or 80 sheets on the ZD-2SR (80gsm).
The USM-140 and ZD-2SR also benefit from giving a flat clinch finish for all stapled/stitched work, flat stapling/stitching up to 250 sheets 80gsm (25mm) AND both use single phase electrics, so can be plugged in and used anywhere!
When either machine is purchased in conjunction with a service contract a 2 year warranty is available on both machines.
Call our sales team on 01934 645050 for more info or a demonstration, or use our contact page.